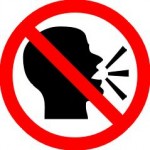 The Art of Business Social Interaction is a trademarked program I developed working with a group of new associates that the organization wanted to ensure were aware of the social protocols in working with clients in all situations.
One of the cardinal rules that should never be broken is to remember the three banned topics: religion, politics and money. I recalled years ago working with one pro-life and the one pro-choice colleague. We would have a wonderful lunch together because they were both very charming people. But once this issue came up – it became an unpleasant afternoon.
Just recently, while walking my dog, a person I would meet occasionally while he walked his dog, brought up how awful the news has been. I mistakenly brought up my distaste for guns and he said let's not get political. This pleasant walk became very uncomfortable because I had forgotten my own rule to never talk about politics, religion or money!