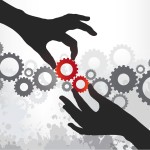 Many work and personal relationships are built on attracting the opposite person like an extrovert with an introvert, a thinker with a doer or people driven by feelings with those that apply logic. These relationships combine to balance each other and complete a circle.
What about successful relationships consisting of similar types of people such as a thinker with a thinker or an introvert with an introvert? These tend to bring safety, comfort and dependability to both parties in the relationship.
Relationships that grow and can experience more wins are usually the ones composed of opposites in thinking and actions. Are they the easiest? Usually not, but they can be the most productive.