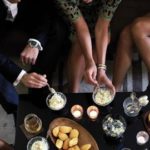 Entertaining a client is a good way to continue to build a relationship. However, if not handled appropriately, the relationship may get damaged. To ensure it is an impactful and enjoyable event, follow these tips:
• Be respectful of the client's time, let them choose a convenient time and date.
• Pick a dining location that is easy to get to.
• When extending the invite, share the purpose – a thank you or a catch up on a project.
These are guidelines I have used that have helped make entertaining a success for the client and myself.