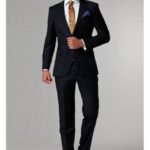 Recent articles in the New York Times and Chicago Tribune discussed how the suits for Sean Spicer and Stephen Colbert work or do not work. In the real world, suits for men seem to be evolving daily. That is because the fashion industry has been trying change the look of suit styles mainly to drive sales.
The current style for the slim and younger man is closer fitting jackets and stovepipe look pants. No pleat pants on the fuller body type or older men and lapels are back in vogue on the jackets for everyone.
Sean Spicer suits have a dated look because the jacket fit is too wide. He cannot wear the slimmer, youthful one. However, he can trim down the sides and bring in the jacket shoulder to sport a more fitted, smarter look.
Stephen Colbert finally got the message to wear flattering suits and say good riddance to the awful ones where the jacket and pants made him look like a stuffed sausage. Colbert now looks and moves with ease when performing his monologues.
Unfortunately, Spicer has not transitioned to the custom tailored suits that make him look more elegant and balance his rough speaking style.