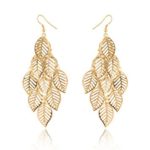 Long earrings can be fun to wear in business setting and social settings. These are some key points to remember in choosing the right length to wear:
• The longer earring worn shows best contrasted with the neckline of the top.
• A necklace should not hit the shoulder blade otherwise the earring will not have movement.
• Long earrings can have double to triple strands. For the look not to get lost, balance it with a simple hair style.