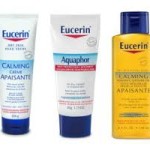 Winter is awful on our skin. In a recent meeting, I sat across from a person who kept scratching their arms and then their neck. Pretty soon I wanted to start scratching (him and myself!) even though I take precautions not to have dry skin by:
• Using Neutrogena, Rainbath® Refreshing Shower and Bath Gel to shower in warm water not hot and then using their body oil before I dry.
• Drinking plenty of water
• Only wearing natural fabrics (cotton and very fine wools) for those allergic to wool, then only cotton.