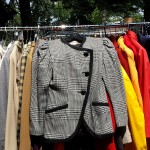 Recently I have decided to give some of my beautiful suits away. I used to wear suits on a regular basis before slowly moving to business casual, really a more really professional casual.
When presenting to groups, I still wear a suit but it's a much more relaxed version, containing no dark colors and in some cases, I like a mix and match (With the jacket as more of a companion color to the pants or slacks).
I've discovered that the most difficult part is giving away wonderful suits that have helped my business. I remember at an event, a colleague told me that I always look like a major company CEO. This proved to be very important when meeting with staff from Fortune 500 companies.
Now these suits must go to a worthy cause to women to help them in their work world. The guidelines below have helped me feel good about giving these friends away:
1. Keep one to three key suits to wear for presentations and pair them with all the companion pieces (shirts, ties, etc.).
2. Put the clothing in a plastic clear bag – marking the date. If you have not worn the clothes in one year, donate them.
3. Once you touch the item and bag it, do not touch it again.
4. Always try the item on before making any decisions. It is too romantic if you don't. Old memories can cloud reality.