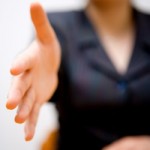 A handshake is a personal touch to establish a relationship. The dictionary states that a handshake is "a gripping and shaking of right hands by two individuals, as to symbolize greeting, congratulation, agreement, or farewell."
I am continually surprised at the greeting handshakes that are either only finger tips touching or the grip is so strong it hurts. If you cannot shake hands for health reasons, just say I would love to shake your hand but I have a terrible cold or ___. It is better to speak up than to ignore shaking hands.
The five-star handshake is palm to palm, nice and firm with one or two pumps made while you look each other directly in the eye. This handshake says I want to get to know you.