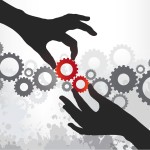 Hugging in professional setting is really only acceptable when folks have a long term relationship and hugging has been established early on. If you want to hug someone, ask for permission to do so.
If you are not a hugger and have been asked if you can be hugged, it is your right to say no. However, do so in a way that lets the person know you want to have a relationship with them.
Hugging can be tricky when it involves men and women so proceed with caution. I personally like hugging a long term friend and client. It says to them I enjoy working with you.