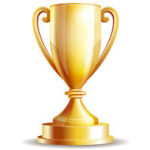 At a recent event, a client was the last person to accept an award. Unfortunately, the other award winners were funny and seemed to have either practiced their acceptance speeches or were adept at adjusting to statements by earlier award winners.
If I had been hired to coach the client on speaking in public especially when accepting an award, I would have mentioned the following critical elements for a winning acceptance speech:
1. Remember, 30 to 60 seconds is the shortest length of time and 90 seconds to two minutes the longest when accepting an award.
2. Differentiate yourself with your own personal story to tie into the thank you.
3. Be generous with crediting the folks who helped you win the award.
4. Inject a bit of humor. It goes a long way.
5. Practice in front a sounding board.
Following these guidelines will give you an 80% chance to give a memorable acceptance speech.