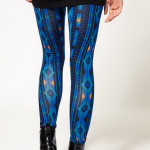 I was surprised to see a Diane von Furstenberg model wearing dark hose with a light color sandal promoting a skirt dress. Wearing hose with open toe sandals is becoming more mainstream. These are a few guidelines to ensure you will look smart and not frumpy:
• Wear dark sheer hose with a dark sandal
• Pattern hose will look best with a sandal in the color same family
• Hose must be toeless – no seams at the toes
• Tights can be the exception in coordinating color with the shoe when the tights match the outfit
If in doubt, chose a color close to the sandal rather than the dress or skirt.