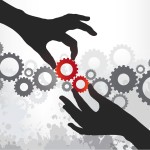 I am still amazed when customer service calls me back. Recently, I had two very different customer service experiences. One was a rep who directed me to the website to make changes to a service plan. Two days later, after no success with customer service and not being able to get into the website, I went to the retail store to speak to a representative. This person could not get into the site either but promised to call me back the next day.
No call.
I then called the store number where another customer service person helped change the plan. Four days of phone calls, no luck with website or even with the retail store.
My second example was a "wow"! I called first to get a customer service person. This person told me he would handle it and would call back with the correction needed. He called me back within ten minutes with the change and a confirmation number.
When running a business, customer service is critical to the survival of almost any business. It will set you apart from competitors but the key is to "wow" the customer!