Why are we surpris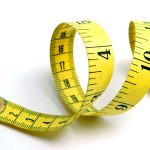 ed when we see actresses and actors who look short in real life? That's because on the screen, their clothing has been tailored to scale to give an impression of greater height.
I like to stretch accessory guidelines. I have been told many times that only certain items should be worn on tall folks and short people. For instance, the rule is that a short person should never have cuffs on their slacks. Also, a tie on a shorter man should be worn slightly longer than appear too short. However, I feel that if the proportions are working and the accessories look good, that usually works no matter what the person is wearing.
Stretching the guidelines on accessories can make an outfit truly stand out.