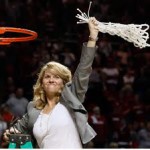 Working with a client to help him strengthen how he communicated with senior management, we decided to have another member of his firm sit in to give some feedback. Every time we started, his colleague interrupted to share his point of view how my client could do it better.
This went on for about 40 minutes when I finally asked all feedback be given after the taping was over. The rules were that he could only use this phrase "This is how you can strengthen" not, "This is not the way to do it".
The reality is that when you are inclusive, it empowers the person being coached. It does not take them down. Empowering boosts confidence and confidence encourages folks to try new methods of action and thought.